Ice Melt Program NATIONWIDE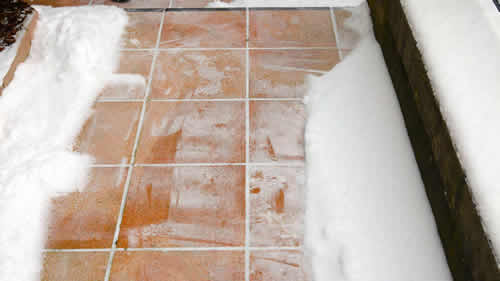 CLIENT OBJECTIVES
To make icy, snow-covered sidewalks and other areas outside of its branches safer for employees and customers.
VALUE DELIVERED
During winter months, businesses that rely on pedestrian traffic always have to be concerned about the snow and ice that can cause accidents, disrupt operations, and sometimes even lead to lawsuits. As facility maintenance experts, USM understands this.
USM takes a planned and strategic approach to clients' snow and ice removal, so last year, they proactively developed and recommended an innovative program to one of its major banking clients. The program involved supplementing the client's use of its regular snow removal and salting services with ice melt, those ubiquitous little white pellets that dissolve ice and snow on sidewalks during cold weather. The bank liked the idea. Consequently, USM shipped ice melt in easy-to-use shaker jugs to bank locations around the country. The fast-acting blend of calcium chloride and magnesium chloride is effective in temperatures as low as -15° Fahrenheit.
Since the program successfully improved customer and employee safety, the bank asked USM to expand the effort in 2012 by shipping the snow and ice melter to 2,656 of its locations throughout the country. Each location will receive two cases, each containing four ice melt shakers. After that, the branches can re-order the product in case quantities as needed using a dedicated email address and "800" number. The program, which will continue to supplement existing snow removal and salting services, will again provide an efficient, cost-effective way for the bank to maintain customer and employee safety.
SOLUTIONS
An additional highlight of this year's program is its reduced shipping costs. Last year, USM shipped the ice melt from one central distribution center to all of the branches involved. Since these branches were at varying distances from the center, the shipping costs added up.
This year, however, USM's logistics experts, who originally identified the appropriate product and type of container for the branch banking environment, plan to ship the product from distribution centers near each branch, significantly reducing program costs.
BACKGROUND
The bank is one of the world's largest financial institutions. In the United States, it serves approximately 56 million consumer and small business relationships through approximately 5,600 retail banking offices, about 16,200 ATM's, and an award-winning online banking network of 30 million active users.