Parking Lot Services
Parking Lot Striping, Sweeping, Maintenance, and Painting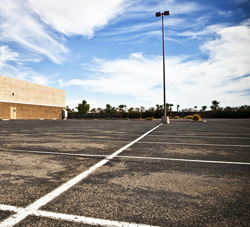 Parking Lot Sweeping & Cleaning
Debris-free surfaces make for a strong first impression. At USM, we deliver reliable parking lot sweeping and cleaning services for all your paved surfaces. For sidewalks, entrances, loading docks, or dumpster enclosures, our program to remove debris actually extends the life of the asphalt and provides long-term financial benefits for your facilities maintenance programs. At USM, we've learned that a little parking lot maintenance goes a long way.
Parking Lot Striping and Painting
Clean. Sharp. Well maintained. USM pros install, stripe, repair, and replace parking lots and drives to enhance your facility's image. Replacing an existing parking lot or drive is costly, so arranging for regular preventive maintenance of your surfaces with USM is a must to preserve your investment. Our parking lot painting services also include special lettering and marking, plus installation of recycled rubber and concrete speed bumps or car stops.