USM Employees Raise Funds to Buy Hundreds of Items for U.S. Troops Overseas as Part of EMCOR Group, Inc.'s "Troops Support Program"
--- Fundraising Events Included "Red, White & Blue Jeans Monday" and "Bingo for the Brave Wednesdays" ---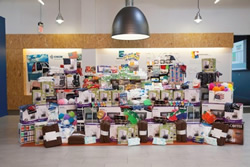 USM, an EMCOR Company, raised funds through a series of themed events that they used to buy 1,400+ of items for boxes sent to U.S. troops overseas as part of EMCOR Group, Inc.'s "Troops Support Program". EMCOR sends packages to its list of deployed service personnel 5-6 times a year.
NORRISTOWN, PENNSYLVANIA, November 4, 2014 – USM, Inc., an EMCOR Company, announced that over the past few months its employees have been engaged in supporting EMCOR's "Troops Support Program" and raised money through a series of themed events enabling the purchase of 1,400+ items for the Company's packages that are sent to U.S. service men and women deployed overseas.
A leading national provider of interior and exterior facilities maintenance programs, USM is a subsidiary of EMCOR Group, Inc. (NYSE: EME), a Fortune 500® leader in mechanical and electrical construction, industrial and energy infrastructure, and building services for a diverse range of businesses.
EMCOR's "Troops Support Program" sends packages 5-6 times a year to EMCOR personnel, family, friends, and other service personnel who are deployed overseas. The boxes contain non-perishable food items, reading and writing materials, clothing, and other useful items; they are often shared with others in the unit.
"We were honored to participate in EMCOR's 'Troops Support Program' initiative," stated Ivan Dubow, Chief Operating Officer, USM. "As a company that has built a reputation on being engaged in the concerns of our industry and community it is particularly gratifying to have an opportunity to come together and show support for the brave men and women who every day put their life on the line for our freedom."
Some of the fundraising initiatives organized and undertaken by employees of USM in order to generate funds included:
"Red White and Blue Jeans Mondays" in May.
"Bingo for the Brave Wednesdays" in June.
"Rally the Troops" in August/September.
About USM, Inc.
USM, Inc. is a leading provider of essential facilities maintenance services, including interior and exterior services and electrical, mechanical and plumbing services, to national and regional commercial customers that typically maintain more than 100 sites across wide geographic areas. With its highly developed, proprietary network of over 11,000 service partners, USM delivers consistent facilities maintenance services across a nationwide footprint for approximately 150 customers in over 75,000 locations in all 50 states and Canada. Headquartered in Norristown, PA with offices in Red Bank, NJ and Ventura, CA, USM is a subsidiary of EMCOR Group, Inc. (NYSE: EME), a Fortune 500 company with estimated 2014 revenues of ~$6.6B, a leader in mechanical and electrical construction, industrial and energy infrastructure, and building services. A provider of critical infrastructure systems, EMCOR gives life to new structures and sustains life in existing ones by its planning, installing, operating, maintaining, and protecting the sophisticated and dynamic systems that create facility environments---such as electrical, mechanical, lighting, air conditioning, heating, security, fire protection, and power generation systems---in virtually every sector of the economy and for a diverse range of businesses, organizations and government. EMCOR represents a rare combination of broad reach with local execution, combining the strength of an industry leader with the knowledge and care of 170 locations. The 28,000+ skilled employees of EMCOR have made the company, in the eyes of leading business publications, amongst the "World's Most Admired" and "Best Managed". EMCOR's diversity---in terms of the services it provides, the industries it serves and the geography it spans---has enabled it to create a stable platform for sustained results. The Company's strong financial position has enabled it to attract and retain among the best local and regional talent, to undertake and complete the most ambitious projects, and to redefine and shape the future of the construction and facilities services industry. Additional information on EMCOR can be found at www.EMCORGroup.com.
This release may contain certain forward-looking statements within the meaning of the Private Securities Reform Act of 1995. Any such comments are based upon information available to EMCOR management and its perception thereof, as of this date, and EMCOR assumes no obligation to update any such forward-looking statements. These forward-looking statements may include statements regarding market opportunities, market share growth, gross profit, backlog mix, projects with varying profit margins, and selling, general and administrative expenses. These forward-looking statements involve risks and uncertainties that could cause actual results to differ materially from the forward-looking statements. Accordingly these statements are no guarantee of future performance. Such risk and uncertainties include, but are not limited to, adverse effects of general economic conditions, changes in the political environment, changes in the specific markets for EMCOR's services, adverse business conditions, availability of adequate levels of surety bonding, increased competition, unfavorable labor productivity and mix of business. Certain of the risks and factors associated with EMCOR's business are also discussed in the Company's 2013 Form 10-K and in other reports filed from time to time with the Securities and Exchange Commission. All these risks and factors should be taken into account in evaluating any forward-looking statements.
###
FOR: EMCOR GROUP, INC.
CONTACT: Mava Heffler
Vice President, Marketing & Communications
203.849.7814

Mollie Fullington/Lisa Linden
LAK Public Relations, Inc.
917.346.6123/212.575.4545