Home Furnishings Retailer Nationwide Restroom Restoration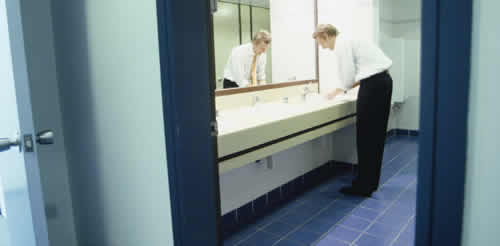 CLIENT OBJECTIVES
Upgrade existing restrooms without disrupting the in-store customer experience.
VALUE DELIVERED
All restroom renovations were completed with no disruption to store operations, which meant no lost revenue for the client. USM identified upgrades, metered faucets, and provided solutions that reduced water consumption – and related energy costs. We introduced a new floor sealer to achieve a "like-new" appearance that provides additional protection to the floor, further reducing future maintenance costs and potential slip-and-fall incidents.
SOLUTIONS
USM assessed the current conditions and proposed upgrades, per client specifications. We worked with the store to schedule renovation after hours – which limited the impact on the store and its customers.
USM introduced new technology in the restroom restoration with the implementation of a new floor sealer while maintaining ASTM standards for slip co-efficiency. Environmentally-friendly and cost-effective metered faucets were used to replace outdated manual faucets, which reduced water usage and energy costs even further.
BACKGROUND
Our client operates a chain of over 1,100 retail stores offering a wide assortment of domestics merchandise and home furnishings, which include food, giftware, health and beauty care items, as well as infant and toddler merchandise, in all 50 states, the District of Columbia, Puerto Rico and Canada.